Happy 5th Birthday to Clover! Celebrating a Big Milestone – Leaving Toddler Days Behind and Onto Big Girl Land We Go!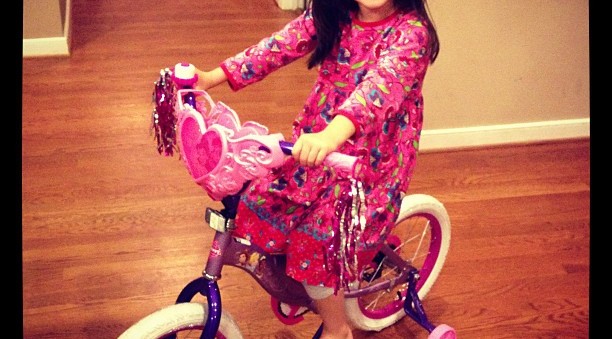 I can't believe my sweet daughter is already 5 years old. I wanted to post this last night on her actual birthday Sept. 18, 2013 but we were exhausted from the whole day of celebrating. We had her party at the Jumpology Trampoline Park – super fun if you have not been there. (It is fun not just for kids but for adults as well)
Here is a short few second video of Clover jumping by me at the Jumpology place:
They had a great party room too for us to do pizza and cake and presents… talk about a girl in heaven

It was a big success and everyone had a blast and she came home to her surprise bike (see the pictures above).
It truly made the day just to see her so happy and proud that it was her big 5 year old Birthday. Boy time is sure flying by, I remember when Dr. Campbell put her in my arms and sang "Happy Birthday" to her right after I gave birth.
I am posting all of this to remind all of us to celebrate milestones and birthdays to the fullest. It's important to give gratitude for the day you were given life. Below is a great family picture at the end of the party

On the note of gratitude. It is something that I practicing everyday now.. giving gratitude and sending love to everyone. It is really changing my life and I know it  can change yours.