Day 7 of Cleanse: Meal of the Day – Clean Lemon Garlic Olive Oil and Veggie Brown Rice Pasta Recipe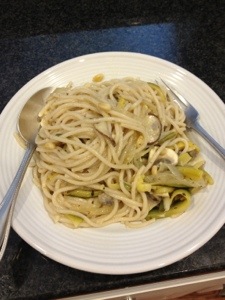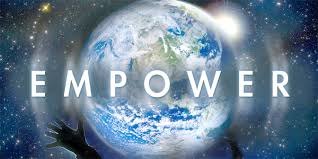 Greetings! Well today is day 7 of our 21 day Clean Cleanse. I am starting to feel so much better and lighter and have more clarity. When you do this cleanse you get to eat one small meal at lunch time (you can switch that out and do that for dinner once in a while)… then you have  2 liquid meals for breakfast and dinner and you can have a couple snacks… there is a list of approved foods you can eat.
SO, this is a common recipe I use when we are doing this cleanse… it does not have any cheese because you can not have cheese or dairy on the cleanse… if you are not cleansing you can easily add cheese.
Above is the finished product! And you get a full pot of pasta and this will last Michael and me a couple days — so about 4 servings or 5 servings.
I didn't put the olive oil in the picture but that is a huge part of this meal of course.
So it's a package of Tinkyada Brown Rice Spaghetti— you can use whatever brown rice pasta you want
1 zuchinni cut into slices
1 squash cut into slices
1 large vidalia onion cut into slices
6 cloves of garlic chopped
5 baby portobello mushrooms sliced
2 lemons juiced
1/2 cup of pine nuts (optional)
salt and pepper to taste (you can add cayenne for some heat if desired)
1 Tablespoon of the italian seasonings made up of parsley, basil and oregano
(you can also add Kale, julienned carrots,spinach —> this particular recipe I did not add)
After the onions are well cooked and almost caramelized, add the zuchini, squash, mushroom next add the pine nuts and saute these ingredients till softened.. then add garlic and your seasonings… after about 10-15 minutes  you can add one of the squeezed lemon juice to the mixture and mix well.
Then take your drained pasta (cook as directed on package) and add the other juice of the lemon to that drained pasta and mix  in before adding the pasta into the veggie mixture.
Combine pasta and veggie mixture and VOILA!! Enjoy… let me know what you think… you can always vary the amount all the ingredients to taste… have fun with it and dry different variations.